Mid-Summer Seminar Tarot Series by David Idar
Sunday, August 7, 2016  12:00pm till 6:00pm
Location:  Villa of Gruene, 1190 Gruene Rd., New Braunfels, TX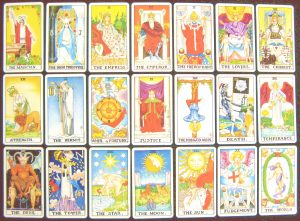 This seminar is about the first half of the Major Arcana cards in Tarot.  As I have mentioned many times before, each Major Arcana card represented a book of wisdom in ancient times.  There were no rapid printing processes or corner book stores in ancient civilization.  Scribes and calligraphers hand wrote all books and documents prior to the printing press.  The cards were actually the cover for each of the books of personal enlightenment and spiritual evolution.  In this seminar, we will confidently set out on this journey of exploration and enrichment as we travel into each card, first through the foundations and traditions, and then through a guided meditation into each card where we will gather the thoughts and experiences of the whole class.   This process should prove to be quite experiential and enlightening.  Call or email to reserve your seat now!
Email is to reserve a seat and any printed material, or Call (210) 275-7607.
Mark your calender's now!
Thank you!